You are probably wondering how to make your roofing website stand out from that of your competitor. High-quality website content could be the key to winning more clients. You can discover what type of content to include on each of your web pages and how to write it. When a prospect gets to your landing page, or home page, your website content can either convince them to take action or leave your website.
Before thinking about website content, think about its impact on your roofing marketing. What role will it play? Below is a guide on how to create the ideal website content for your roofing website that can help you convert your visitors into customers.
Landing page
A landing page is an independent page that your users come across after clicking on an ad, a link via their email, or other digital platforms. This page introduces your brand and roofing services to your prospects. It is a web page that typically welcomes visitors to your roofing site.
The website content on this page determines whether you acquire clients or lose them to your competitors. Therefore, you should include relevant, informational, and compelling content on this page.
Your landing page content should aim at generating leads or converting them into customers. Below is a guide on how to write high-quality content for your landing page
Create a captivating headline
You can add a compelling headline on your landing page that showcases the value your clients can get from purchasing your services. It has to be an enticing offer that can offer a solution to their problem. You can add a supporting headline that captures the attention of your audience further. Below is a good example of a heading you could use.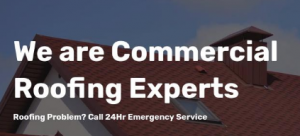 Give your prospects reasons why they should choose your services
Identify your prospects' pain points and sympathize with their plight. Assure them that your services can solve their challenges. Highlight how your roofing services stand out from those of your competitors. The following are some pointers you could use to win your clients over.
You can tell them that customer satisfaction is your topmost priority
Assure them that your services are budget-friendly
You can tell them that your roofing materials are of high quality
Below is a good example of what you can include.
Add a brief description of your services
Add a summary of your roofing services to assure your prospects that you offer the services they are looking for. This also presents you with an opportunity to link your clients to the main roofing services that they require.
Some of the services you could highlight include:
Residential roofing services
Commercial roofing services
Roof repair
Roof replacement
Roof maintenance services
Here is a good example of a service description.

Include visual content
A picture is said to be worth a thousand words. This is probably because pictures capture a reader's attention more than written text. Add a captivating photo showcasing what you are offering and how it will benefit your clients. You can add a picture showing a faulty roof and the result after repair or replacement.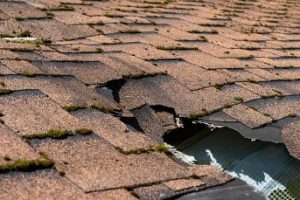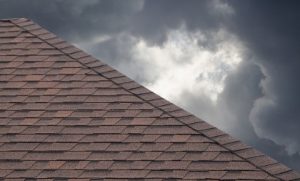 Add social proof
You can also include social proof such as customer reviews or testimonials. Most customers read customer reviews before making a purchase. By posting positive customer reviews, you present yourself as a trustworthy and authoritative roofing business. This increases the chances of your prospects converting into actual customers. The following are good examples of customer reviews.

Create a persuasive call to action
Include a captivating call to action that prompts your prospects to take the next step. You can write something like "Learn more about our roofing services" or "Subscribe now to get regular updates on your roofing options." You can also include something like "Buy now" to encourage conversions.
Since you aim to use your website content to grab your target's attention, you can opt to include a call to action that encourages your visitors to read and share your content. This includes content such as articles, blog posts, videos, podcasts, or webinars. Below is an example of a great CTA.

About us page
This is a web page that focuses on informing your prospects about your brand, its history, the reason behind its formation, and how it can solve their problems. An about us page focuses on conveying the uniqueness of your roofing business and why customers should associate with it.
Add your unique vision and mission statement.
You can include your vision and mission statement. Also feature your core values and beliefs. When a prospect sees that your company stands for a worthy cause that resonates with their needs, they might choose you. The following are good examples of what you can write.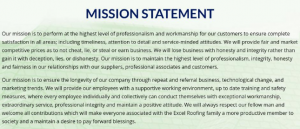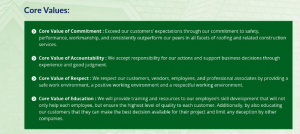 Include a brief history of your company
Give a brief history of how you started your roofing business, the team that helped in its formation, and their background. Include your beliefs and values and reasons why your prospects should trust in your brand above all else. Take your prospects on a journey with your unique story
By writing about your hardships, failures, and achievements, you build a connection with your prospects. Some of them might even relate your experience to theirs which makes it easy for them to trust your brand. Your unique story also helps you stand out from your competitors which might give you an upper hand in acquiring new clients.
Below is a good example of what you can include in your company's history.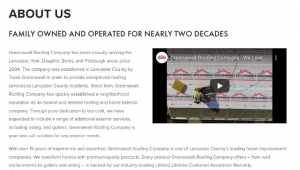 Add your achievements and awards
You can post your awards and achievements to show that your roofing company is credible, reliable, and gets public recognition. Show your prospects that you and your team members are certified or licensed technicians. This will build the trust of your prospects and probably convince them to work with you.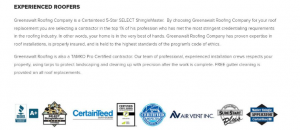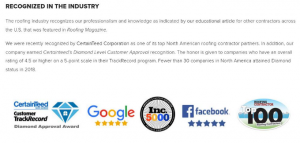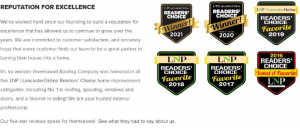 Add your unique value proposition
Your selling point might be that you specialize in renewable roofing materials. Tell your prospects that these materials are eco-friendly and durable.
You can include facts about how long a roof made with renewable materials can last compared to other roof types. Tell them that you are a firm believer in environmental conservation. In so doing, you might as well be on your way to acquiring numerous clients. Here is an example of a unique selling proposition.

Show the faces behind your company
This could be a good idea for an about us page. Posting a photo of you and your team members can provide a more personal approach. If you are a sole proprietor, you can also post a photo of yourself. This will help your prospects warm up to your business.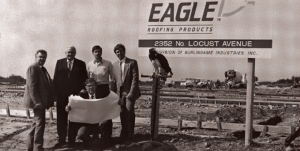 Write a convincing call to action
Include a captivating call to action which directs your customers to your services or encourages them to sign up for your newsletter.  You can also encourage your prospects to post some feedback. Below is an ideal call to action example.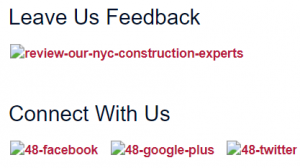 Services page
A service page intends to inform your potential customers about the roofing services you offer and why they should specifically opt to purchase your services. You should aim to convince your prospects by highlighting the features and benefits they will get from your services.
Come up with a persuasive headline for your roofing services
Create a unique headline that clearly states why your prospects purchase your services. For instance, you can write something like "Breathe new life to your home with the best roof installation services". You can dedicate separate pages to each service.
Focus on your customers' pain points and sympathize with them
Show them that you understand their situation. This will help you connect and build trust in your prospects. You can then help them understand how your services will provide a solution to their challenges. Here is an example of what you can include.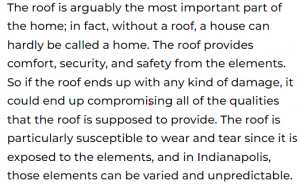 Link the features of your services to the benefits your client will get
Help your potential clients understand how your services will improve their situation. For instance, you can educate them on how they can cut costs by replacing their roof other than getting constant repairs.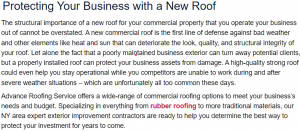 Avoid using technical terms that can confuse your readers
Your client is probably a simple homeowner looking for roof repair services. They most likely don't' know much about roofing. Using terms like fascia or drip edge might just drive your visitors away. Stick to the day-to-day simple language that helps them understand you have what they are looking for.
Include a clear call to action
Add a captivating call to action that encourages your readers to contact you if they require more information. You can even persuade them to purchase your services. You could write something like;

Blog page
A blog page focuses on informing your readers on useful topics that relate to your roofing business. You can hire an expert website content writer to create high-quality blogs on relevant topics. Your blog page can cover DIYs that are applicable, the latest trends, or updates to your services. Blogs should be interesting and engaging enough to keep your readers glued to the screen.
Your writer should come up with a captivating headline for the blog post.
They can opt to focus on Frequently Asked Questions which provide a more precise answer to a prospect's question. For instance, you could come up with a topic like, "Should I worry about snow on my roof?" or "How do I repair a leaking roof?". Below is a good example of a topic you can use for your blog.

Write a high-quality introductory paragraph
How you introduce your blog post determines whether your prospects will continue reading or simply hit the exit button. Your lead paragraph should be smooth enough to spark your reader's interest.
Creatively collect your ideas and compile them in the first paragraph. Show your readers that what you will address will improve their situation in one way or another. Let us look at an example of a good introductory paragraph.

Conduct extensive keyword research
Your writer should perform keyword research to determine the keyword phrases that your roofing website can rank for. Keyword research also helps you discover your prospects' search intent.
Let the keywords flow naturally throughout your content. In most cases, website owners just focus on the keywords and end up with low-quality content. This is because they optimize for search engines forgetting that the primary goal is to capture the reader's attention.
You can use tools such as Keyword Planner to get relevant keywords and phrases. An example of a keyword phrase you can use is; "best roofing repair services". You can even optimize for keywords that include your area of service. For instance, you could include a phrase like; "reliable roof installation services in Manhattan".
Include internal and external links
Internal links direct users and search engines to more informational and relevant content on your website. For instance, you can direct a reader in need of roof installation services to the types of roofing materials they can use. External links on the other hand present your website as an authoritative and trustworthy site and can lead to more traffic.
Add infographics
Eye-catching infographics break the monotony of texts in your blog posts. Your infographics should be attractive and informational. They should highlight the most important message that you wish to convey to your readers. Below is an example of a suitable infographic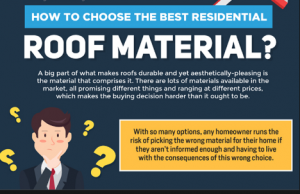 Write short, clear, and concise paragraphs and sentences
Short sentences help your reader understand information better. Runny sentences might confuse your readers. Make use of the white space to enhance readability. Don't add too many graphics or photos as they will make your blog appear congested and disorganized. Let us look at an example of a paragraph that your reader can easily understand.

Include a catchy call to action
A blog post can be helpful to your rankings but without a persuasive call to action to nudge your readers, you might lose potential clients. Come up with a convincing call to action that guides your readers to the next step. You can encourage them to check out your services, or leave their contact information, etc.
Contact us page
This is a page where you provide information on how your prospects can get in touch with you. This page is the roadmap to creating a relationship with your prospects. You can easily get conversions on this page. Inform your prospects of what they can achieve by reaching out to you. Whether they have questions regarding roof installation, repairs, or replacement, assure them that you can help.
Invite your prospects to fill out your contact form.
Ensure that the form does not include too many details and only pick the most important ones. Add information such as:
Name
Email address
Feedback section
Below is a good example of a contact form.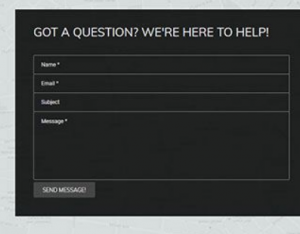 Include a link that directs potential customers to your social platforms
For instance, you can include a link that leads to your Facebook or Twitter platforms to further engage your prospects.
Design your contact page to complement the rest of your web pages
Your website developer should ensure the colors, fonts, and images are similar to those of the other pages. This promotes consistency and avoids creating confusion among your website visitors.
Ascertain that your contact page is easy to locate on your website
When users fail to find your contact us page, they might seek information from other roofers making you lose potential clients. Don't add too much information on your contact page as it may make it difficult for users to easily contact you.
High-quality content is crucial for your roofing SEO. Knowing which content to include on your web pages is important if you want to convert those leads into active clients. You should ensure that the content on your home page, landing page, service page, and contact page is optimized for your users. Make sure your blog posts add value to your readers. If you require assistance with your roofing website content, reach out to us today.