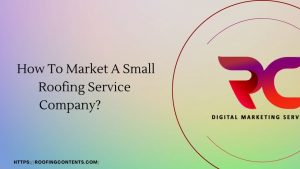 How  do you market your roofing company? There is more than one way, but you have to know where to start. In this how to guide, we take you through roofing company marketing. Before beginning a marketing campaign for your service company, there are several things you should do. They include:
Define your services
Before marketing your service company, you should consider defining your services and identify whom you are targeting with the services. For instance, if you offer residential roofing services, your marketing efforts should lean more towards homeowners. If the service is more specific like residential roof replacement and repair, you can try to align your marketing efforts to customers who require these specific services.
Your service company could be dealing with commercial roofing, repairs, replacements, etc. In this case, you can try and research your target audience to get several commercial roofing marketing ideas. You can try to address the following.
What are their pain points? Can you address them?
How do they spend their free time?
What is their level of income?
What is their education level?
What are their buying habits?
Marketing becomes easier once you define your services and identify how to use them to satisfy your prospective customers' needs.
Come up with a unique selling proposition
You can come up with a marketing hook that shows your prospects how you stand out from other roofing companies. Your selling proposition should convince your clients to choose your services over those of your competitors.
When you study your prospects and identify their needs, you can easily come up with a marketing hook that addresses their pain points. For instance, you might find out that more homeowners need eco-friendly roofs. You can center your selling proposition around providing green roofing solutions.
Set clear roofing company marketing goals
Before investing in a marketing campaign, try to set the goals you want to achieve. You might have short-term or long-term goals. Either way, try to identify those goals to effectively select the right marketing channels and carry out a rewarding campaign. Some of these goals include:
Increasing traffic
Generating more leads
Making more sales
Creating brand awareness
Boosting your profits
Increasing ROI
Identify your marketing channels
Identify your roofing company marketing channels
You might be working on a budget and therefore you can try to identify the most relevant marketing channels that can work for your roofing company. You can try to utilize both traditional and digital marketing channels. Below are some roofing strategies that can work for your service company.
Brand your vehicles and apparel
You might not have a physical store which could make it difficult to create brand awareness. However, your company can still get recognition through branding. You can use your service vehicle and working attire as roofing marketing materials.  An expert graphic designer can brand your service vehicle and working apparel to market your roofing company.
They can include your company's name, logo, services, and contact. Every time you deliver your services to homeowners or commercial property owners, other prospective customers can discover your company through your vehicle. They can use your contact to make service calls whenever they require any of the services you offer.
Print brochures and flyers
Some other roofing marketing materials that you can use are brochures and flyers. You can find brochure and flyer templates online. Alternatively, you can hire an expert to create eye-catching brochures and flyers for your service company. They can include the services you offer, your contact, discounts, etc.
After printing out these roofing materials, you can hand them out to your clients after delivering a service and request them to contact you in case they require more services. You can also hand them out to other homeowners after delivering roofing services in a particular neighborhood.
Create social media accounts
Most of your prospective clients are likely to spend their free time browsing through social media platforms such as Facebook, YouTube, Twitter, Instagram, etc. the goal is to create the most relevant accounts that can place your business in front of a wider target audience.
Creating social media accounts can also help you keep a close eye on other roofing companies and keep up with digital marketing trends for roofers. Facebook and YouTube have more users compared to other social media channels. You can therefore create social accounts on these platforms.
Create a website
Most customers search for information and services online and you probably want these customers to find your services and invest in them. A website can help you create an online presence for your business. You can hire a website developer to create a roofing website to increase your brand's visibility online.
They should design your website in a manner that attracts your prospects' attention. The  developer can add attractive colors and images that blend seamlessly with each other. They should also ensure that your customers can easily navigate through your website to get the information they seek. You can include your company's logo to set yourself apart from other roofing companies. Your logo can create a lasting imprint in your clients' memories which can help boost brand awareness.
Your website developer should ensure that your website is compatible with multiple devices such as computers and mobile devices. Search engines like Google prioritize websites that are compatible with mobile phones to enhance user experience. You should also check on the responsiveness of your website. Your website should load quickly to avoid losing website visitors since most users get impatient when a website takes too long to load.
Optimize your website for search engines
This is where you improve your website such that it ranks higher on search engines and you get more website traffic. This website optimization is alternatively known as Search Engine Optimization (SEO).
You can optimize your website for search engines by creating high-quality website content. A reliable roofing marketing agency can work on your SEO for you. Some of the content you can create includes:
Blog posts
You can create highly informational and engaging blog posts to capture the attention of your readers. You can outsource an expert writer to come up with roofing blog topics and ideas that your readers care about. They can try to look for search terms commonly used by your prospects and center your blog topics around those terms. For instance, they can use something like "signs that you need roof repair".
You might also want your website to appear on search results when prospective customers search for particular information or services. Your expert can target the relevant keywords and incorporate them into your blog posts to increase your website's ranking and visibility.
Videos
Some clients prefer watching videos to reading blog posts. You can try to take videos and post some of them on your website. You can record yourself delivering a particular service and post it on your website.
Try to post informational and interesting content to keep your viewers anticipating your next video. For instance, you can post DIY videos showing homeowners how to fix something on their roofs. When viewers trust your content, they are more likely to trust you to deliver high-quality services once they need them.
Podcasts
Identify interesting roofing topics that you can post for your prospective customers on your website. For example, you can take advantage of the weather and talk about topics like roof damage from storms and what can be done to leverage the situation.
When you regularly post high-quality podcasts on your website, your prospects identify with your brand's voice. Apart from brand recognition, a podcast brings a personal touch to your marketing. You are more likely to resonate with your clients' emotions and gain their trust when you use podcasts.
Case studies
Case studies can help you effectively market your service company and acquire more roofing leads. When you document your previous projects, you are likely to perk your prospect's interest. When your potential customers see that your previous projects have been successful, they are more likely to gain some trust.
You can document these case studies with photos showing the state of a client's roof before and after delivering your services.
Infographics
You can include high-quality infographics and images on your website. Visual information can stick on a client's memory more effectively than text. They are more likely to remember seeing a particular image on your website. This can be good for your marketing.
Utilize FAQs in your website
These are the most frequently asked questions by prospective customers which appears as a section on search results pages. You can use these questions as topics for your blog posts or include the questions below your blogs to attract more website traffic and increase your ranking on search engines.
Customers looking for direct answers to these questions might overlook other websites and click on yours. You should however try to answer the queries as comprehensively as possible. Add value to your readers such that their interest in other topics on your website increases.
Promote your content on social media platforms
Create high-value social media content. You can repurpose some of the content on your website for social media platforms like Facebook or YouTube. These platforms can help your digital marketing for roofers become a success by reaching a wider audience.
For instance, YouTube is the most visited video streaming platform globally. Think about the number of people you can reach when you promote your video content on this platform. You can create DIY or educational videos to establish your brand as an authority in the eyes of your prospects. When viewers trust your content, they are more likely to invest in your roofing services.
Consider posting your content on Facebook too. You can post photos and small clips of your work. For instance, you can post photos showing an old roof and the results after you installed a new one. This might motivate prospective clients to replace their old roofs and reach out to you. You can include links to your website to help prospects discover more useful content and generate more viable leads.
You can engage your prospects in the comment section by answering any questions they might have and engaging in conversations. By engaging your prospects, you can create long-term relationships that can lead to making more sales and retaining these clients.
Try to use relevant hashtags on social media platforms to increase your visibility for relevant searches. For instance, you can use something like #roofreplacement to help prospects looking for these services find you.
Optimize your website for local search
Local search engine optimization (Local SEO) is another marketing strategy that can work for roofing companies. In Local SEO, you work on improving your website to rank higher on relevant local searches and drive local traffic.
Local SEO helps you target the homeowners and commercial property owners or managers in your locality. Google Local SEO is one of the commercial roofing marketing ideas you can use to create brand awareness for your company. You can outsource Local SEO services from a roofing marketing agency. They can work on the following aspects.
Claiming and optimizing your GMB profile
A good roofing company marketing approach is Google My Business (GMB). A Google My Business account is a free business listing that you can use to target your local customers. When properly optimized, your service company can be more visible to prospects looking for local roofing services. Your roofing marketing agency can help you use this digital marketing for roofers' strategy to your advantage.
They can create a GMB profile and include all the crucial details listed below.
Business name
Service area
Operating hours
Business description
Photos
Videos
Services
Ensure that your contact information is consistent across all your social platforms like your website or other social media pages. With a properly optimized website, your website might rank on Googles snack pack which contains the top three local businesses and their information.
Acquire customer reviews
Customer reviews determine how customers view your business. You can try to build the reputation of your service company by acquiring customer reviews. Try to request reviews directly or send emails. Customer reviews can be used as digital roofing company marketing materials since customers are likely to trust what other clients say about your business.
Try to respond to both positive and negative reviews in a professional manner that shows your prospects you care.
Optimize for voice search
Some clients use voice search to look for services online. Your roofing marketing agency can help increase your website's visibility when clients use voice search. Your service providers can find out the search terms used in voice search and use them as keywords in your content.
Create local content and acquire local backlinks
You can outsource a content writer to create local content for your website. They can find out what customers in your locality care about and use that to create content that attracts them to your website. This way, you can get more local traffic and leads which could lead to increased sales in the future.
High-quality content and blogs can also lead to acquiring links from authoritative local websites. This could mean more brand awareness and increased rankings.
List your business on local directories
Listing your business in local directories is one of the commercial roofing marketing ideas that can help you reach your target audience effectively. These directories can also help you reach out to residential property owners. Local directories help connect clients looking for roofing services to reliable roofing service providers. Below are some directories you can consider.
HomeAdvisor
Thumbtack
Angi
Yelp
Yellow Pages
Advertise your services online
Some online platforms provide the best advertising for roofing companies. You can try to advertise your service company using various means to increase brand awareness, increase sales, or boost your ROI. There are several advertising methods you can use which are listed below.
Social media advertising
Social media advertising is a digital roofing company marketing strategy for roofers that you can use to target specific audiences at a fee. You can use photos, videos, stories, or messenger ads on different platforms like Facebook, YouTube, or Instagram to reach your audience.
When users click on these ads, they can be directed to your website to view your services or read your content. For instance, you can post an ad on Facebook that directs your audience to your blog page. Try to use ads that are mobile-friendly to capture a wider audience and acquire more leads.
Pay Per Click (PPC) advertising
Pay Per Click advertising is a search engine marketing strategy where you pay a fee every time a user clicks on one of your ads. This is one of the best advertising methods for roofing companies that can drive paid traffic to your website, help you generate more clients, and make more sales.
Your roofing marketing Agency can manage your PPC advertising campaign for you. They can bid on the relevant keywords to help your service company rank higher on search engines. These keywords are the most relevant search terms that relate to your roofing services. PPC advertising helps place your services in front of potential clients searching for related information.
Local Service Ads
Local service ads are a type of advertising where you pay a fee for every lead you generate. These leads are in form of phone calls from potential clients. Local service ads are one of the best advertising channels for roofing companies and can supplement your SEO strategy by helping you market your small service company locally.
These ads appear on top of both organic results and PPC ad results. Investing in local service ads can increase the visibility of your website, increase traffic and generate local leads. Local service ads appear to users with a Google Guarantee badge which makes them trust your business and potentially invest in your services.
Use Email marketing
In conjunction with advertising, SEO, and local SEO, you can also use email marketing which can help you directly engage your clients. Create an email list and encourage your prospects to sign up by offering incentives such as coupons or discounts. Gradually build your email list to acquire a large target audience for your marketing.
You can send personalized follow-up emails to your existing clients and remind them to schedule their maintenance or just follow up on previous emails and encourage them to take action. By personalizing these emails, a client gets the impression that you recognize their needs and care about their well-being. They are more likely to take action or buy your services when they get these personalized emails.
For example, when you remind your client that the scheduled day for maintenance is coming up, they are more likely to view you as reliable and trust your services in the future. Email marketing can also help you gain your customers' loyalty.
For instance, after installing a roof you can constantly send follow-up emails inquiring about the state of the roof or how you can be of help. In case this client requires any services in the future, they are more likely to choose you over your competitor who doesn't send follow-up emails.
It can be easier to upsell new services with email marketing. For instance, after following up on roof repair or maintenance, you could suggest roof replacement to a client. You can advise them to avoid costly repairs by getting a new roof.
Engage your clients by thanking them for choosing your brand and sending them surveys to get feedback about your services. Take suggestions on areas that need improvement which can help you grow your business in the long run.
Create a Network
Networking can help you acquire leads, create brand awareness and boost the reputation of your service company locally. You can create a network by doing the following:
Reach out to building contractors
You can try to reach out to other building contractors like plumbers, HVAC technicians, construction contractors, etc. Try to form alliances and request them to recommend your services to homeowners and commercial property owners. You can also recommend them to your clients which makes them motivated to help you acquire clients in return.
Join local community groups
Joining local community groups can help you meet different potential clients and contractors who can link you to other clients. By directly interacting with people in your community, you can establish connections and long-term relationships that can help you market your roofing business.
Sponsor local events
Sponsoring local events can help you build your reputation and increase brand awareness in your locality. You can also establish connections and generate more referrals and leads for your service company.
You can try to sponsor sporting events or non-profit organizations in your area. These institutions can then refer you to potential clients giving your company exposure to potential clients. You could even print out roofing company marketing materials such as t-shirts or hats to increase brand awareness.
Attend trade shows
Determine the most appropriate shows you can attend that can expose your business to the right target audience. You can try to use roofing marketing materials such as attractive banners to attract prospective clients to your marketing booth. Trade shows present you with an opportunity to engage your potential clients directly which can be more effective than through virtual means.
Your prospects can also feel more comfortable physically interacting with you and can present their needs more effectively. This can help you make more conversions and acquire more contacts and leads.
Encourage word-of-mouth referrals
Referrals are one of the best advertising methods for a roofing company. You can utilize word-of-mouth referrals by creating a referral program for your existing clients. You can offer coupons or discounts to clients who bring in more leads or customers. However, your roofing services and customer service should be worthwhile to get more leads and customers.
A homeowner can refer your services to a neighbor or her close friends and family. A contractor can also refer other potential clients to your business. For instance, a plumber can connect you to commercial or residential property owners after delivering their services.
Direct mail
You can integrate direct mail marketing with other roofing company marketing strategies to make your business stand out and increase brand awareness. With digital marketing getting more attention than traditional marketing, you can use that to your advantage and try to win clients over with direct mail. When properly implemented, direct mail can generate a higher ROI than online advertising.
You can send customized postcards, roofing marketing letters, brochures, flyers, etc. You can include engaging content and CTAs to nudge your prospective customers to take action. Try to also include coupons and promotions to further promote your services. Ensure you add your contact and company logo to your roofing marketing letters to help your customers easily connect with you and your brand.
Try to add attractive photos in your roofing marketing letters to show your prospective clients what you are capable of doing for them. For instance, you can include photos of your previous roofing projects.
Door-to-door roofing company marketing
You can still use canvassing to market your roofing company and acquire several leads. Furthermore, most of your target audience can be found in residential areas or commercial apartments. While taking a walk around the neighborhood, you can take advantage and promote your roofing services to homeowners.
Door-to-door marketing helps you directly interact with your prospects as opposed to online marketing channels. You can pitch your services, and tell them how your services can be of benefit to them. You could even draw live illustrations using their roofs and get a higher chance of influencing a potential customer's decision.
Canvassing also presents you with an opportunity to leave your contact behind in case a prospective customer requires roofing services in the future. Direct interaction also helps a customer feel at ease and ask questions that they probably wouldn't have asked if the interaction were virtual.
Measure the performance of your marketing strategies
You might want to find out whether your marketing strategies are reaping the required results. To do so, you can track and monitor some metrics to help you gauge the performance of your business. You might want to know the rate with which your leads are increasing, measure your traffic, conversion rates, etc. below are some of the important metrics you can track.
Click-through-rate
This is the number of times that users click on your ads. You can use Google Analytics to monitor your click-through rate. If the rate is high, it could be an indication that your ad campaign is working effectively. On the other hand, if the rate is low, you might need to make some improvements
Conversion rate
This is a metric that you can use to track the number of leads that convert into actual customers. If the conversion rate is high, your marketing strategies could be effective. Alternatively, if the conversion rate is low, you might need to revise some of your marketing strategies. Google Analytics can help you effectively set conversion goals and monitor your conversion rates.
Bounce rate
Bounce rate is a metric used to measure the number of users who leave your website without taking action. For instance, a user might land on your home page and leave immediately without checking the content on other web pages. A high bounce rate could indicate a problem with your website content. It could also indicate technical issues with your website.
On the contrary, if you have a low bounce rate, it could be an indication that your marketing strategies are working effectively. A tool like Google Analytics can help you easily track and monitor your bounce rate.
Engagement rate
Engagement rate is a metric used to analyze how actively your audience engages with your content on social platforms. You can monitor the number of likes, comments, and shares on social platforms. Also monitor the amount of time users spend on your website, how many pages they visit, etc.
You can track and monitor engagements across different platforms like Twitter, LinkedIn, Facebook, emails etc. for instance, you can monitor the number of emails that your readers open and forward to other people.
FAQS
Which roofing company marketing approach is best for small businesses?
There are several marketing strategies that can be effective for small businesses depending on the goals you want to achieve. Below are some marketing strategies that can work for small businesses.
Branding
Search Engine Optimization
Facebook advertising
PPC ad campaign
Local Service Ads campaign
Local Search Engine Optimization
Content marketing
Email marketing
Canvassing
Direct mail
For all your digital marketing campaigns, hit us up. We are ready to help you scale your lead generation through social media, blogs, videos, infographics, and other digital methods.